We will be closed Saturday until further notice.  If you need to schedule an appointment or have any questions, please call our sister hospital, Old Bridge Veterinary Hospital, at 703-494-0094.  Thank you for your understanding and we are sorry for any inconvenience this may cause. 

 
Our Story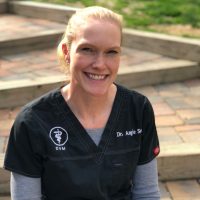 Doctor Gary Griffenhagen founded Davis Ford Animal Clinic over 30 years ago on the principles of high quality animal care, treating hospital staff as family, and treating customers as friends.  Doctor Griffenhagen sold DFAH in 2016 to Doctor Angie Scott…a kindred spirit in terms of practicing medicine and managing a business.   Dr. Scott is from Westminster, Maryland, and she graduated from Texas A&M University. She continues Doctor Griffenhagen's thirty-plus year tradition of excellent medicine, treating employees as family, and ensuring that DFAH thrives long into the future.
Call (703) 491-5134 for an appointment!