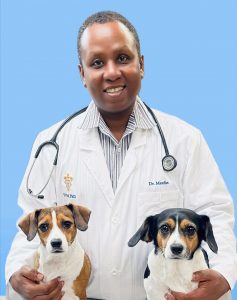 Dr. Mesfin Tsadiku is the Owner and Veterinarian in Charge of Davis Ford Animal Hospital.
Dr. Mesfin developed a passion for animals growing up as a kid in small town in rural Ethiopia, surrounded by different animals. His dreams came true when he was granted a free scholarship to a veterinary school in Moscow, Russia.
Dr. Mesfin Tsadiku graduated with BSC in animal husbandry from Moscow State Academy of Veterinary Medicine and Biotechnology in Moscow, Russia and went on to obtain his Doctorate of Veterinary Medicine (DVM), and then his PhD in pathology. He also completed a 1 year clinical internship at Louisiana State University School of Veterinary Medicine.
Dr. Mesfin is a devoted animal advocate, a seasoned veterinarian with a passion for internal medicine and soft tissue surgery. He has extensive background in veterinary medicine, has been practicing as a small animal veterinarian in Virginia since 2012.
Dr. Mesfin and his wife, a neurologist, love taking their 2 kids fishing and biking, enjoy watching their kids play with their two dogs, Elsa and Chase, 2 years-old Jack Russel/Cavalier King Charles mix littermates.