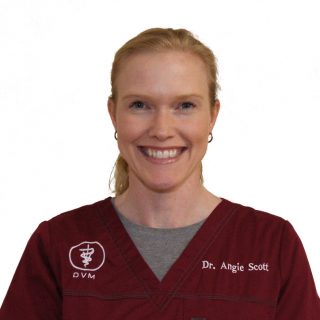 Our mission at Davis Ford Animal Clinic is to provide high quality veterinary care in a relaxed and friendly setting. We are experienced, compassionate professionals, who treat each patient as if they are our own. We want our animal companions to have the highest quality of life and our clients to have peace of mind when they choose our hospital.
When you trust us with the care of your pet, you become more than just a client—you are a member of the DFAC family. We provide friendly, informative, and supportive veterinary services for you and your pet, maintain a superior working environment for our employees, and care for your pet with the love and attention they deserve.
Doctor Gary Griffenhagen founded Davis Ford Animal Clinic over 30 years ago on the principles of high quality animal care, treating hospital staff as family, and treating customers as friends.  Doctor Griffenhagen sold DFAH in 2016 to Doctor Angie Scott…a kindred spirit in terms of practicing medicine and managing a business.   Dr. Scott is from Westminster, Maryland, and she graduated from Texas A&M University. She continues Doctor Griffenhagen's thirty-plus year tradition of excellent medicine, treating employees as family, and ensuring that DFAH thrives long into the future.
With an in-house pharmacy and laboratory, boarding, easy access to area specialists, and an on site grooming shop, our facility offers everything for your pet's health and medical care in one location. With 2 doctors and over 25 team members on staff, we are continually improving our services and facilities to provide you and your pet family member with the most up-to-date quality care in the Woodbridge area.
We not only provide quality care when your pet is sick, we also want to keep him or her happy and healthy at all times. We have a number of resources to enable you to provide the best care for your pets.
Please browse our website to view articles, pet care "how to videos", and an extensive medical library.
All of us at Davis Ford Animal Clinic would like to thank you for visiting our website. We want to be a valuable resource to you by providing the care, education, and tools you need to be the best pet parent you can be.